A Wireless Video Baby Monitor that will make your First Stage of Parenthood a Breeze!
Want reassurance that your baby is safe and sound in the crib? Look no further than this Wireless Video Baby Monitor!
We've all been there - the long days that turn into long nights that turn into longer nights because you're worried and want to check on the baby. Being a parent, whether it's your first baby or your last, is a demanding job and you need all the possible help you can get. Parents have always wanted to keep a close watch over their new little bundle of joy, from the moment they bring that baby home, to have peace of mind. It becomes part of a parenting routine to check on their little sleeper in person.
Thankfully, a video baby monitor is a great way to add peace of mind and possibly an extra nap to your routine while keeping your little one safe while sleeping.
The video monitor will come in very handy during naps. At first, the unfamiliar noise coming from your baby's crib can get you worried. A video baby monitor will save you the trip to the nursery to lay an eye on your precious baby. You don't have to hesitate to check on your baby, for fear of waking baby too soon. You can get a sneak peek, without stepping into the bedroom.
Using a baby monitor reduces anxiety and stress. It also helps parents getting things done while their little bundle of love is finally napping. It's also allowing moms and dads to get a bit more sleep at night.
Benefits:
Built-in lullabies may help the parent comfort the baby fall asleep.
Know your baby's room temperature all day long without worries!
Two-way audio between the camera and monitor, you can talk back to the baby.
Keep an eye on baby all night long with automatic night vision
No need to charge the battery for the monitor in the whole night in Vox mode
Check on your baby easily
See what your baby is doing
Check if your kid is really sleeping
See inside the room without opening the light
Monitor a child with health issues
Monitor a shared bedroom
You can track your baby's toss and turns
Elevated peace of mind.
No more sneaking into the nursery to check on the baby and inadvertently waking them up.
Video baby monitors double as a great tool when it comes to sleep training time.
You can take a shower, less the worries of not watching your baby
It helps you get a good night's sleep or a quick nap.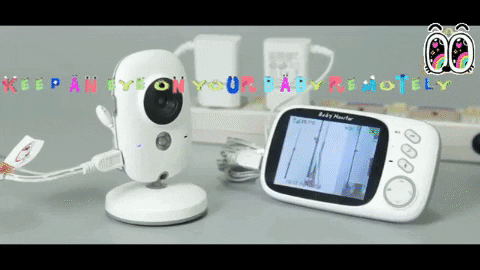 Features:
Hassle-Free Portable Monitoring
Two-way (talkback)
Temperature monitoring
Built-in lullabies in the camera
Automatic night vision
Secure, interference-free, long-range digital signal
High contrast 3.2″ color LCD monitor
Long battery life (18 hours in Vox mode)
Multiple languages support (English/French/Spanish/Portuguese/Italian/German/Russian)
Specifications

General:
Transmission Frequency: ISM 2400~2483.5 MHz
Transmission Power: 17dBm
Unobstructed Effective Range: 160ft/50m indoor/850ft/260m outdoor, line of sight
Spread Spectrum: AFH & TDMA
Modulation Mode: GFSK
Operating Temperature:  14 ~ 122° Fahrenheit/- 10 ~ +50° Celsius
Operating Humidity:  <85%
Monitor:
LCD Size:  3.2″
Resolution Supported:  320 x 240
Receiving Sensitivity:  -90dBm
Consumption Current (Max.):  200mA
Battery:  Li-polymer / 750mAh,3.7V
Power Supply:  5V/500mA DC
Dimensions (W x H x D):  70mm x 120mm x 17mm
Weight:  0.08kg
Camera:
Image Sensor:  CMOS
Total Picture Pixels:  640 x 480 pixels
Minimum Illumination:  0 Lux (IR on)
Night Vision Distance:  15 FT (5m)
View Angle:  Diagonal 45°
Power Consumption (Max.):  200 mA
Power Supply:  5V/500mA DC
Dimensions (W x H x D):  67mm x 106mm x 67mm
Weight:  0.1 kg