If There is One Thing A Baby Loves to Do at Meal Time; It's to Make a Mess…these Waterproof Apron Baby Bib's Come in Handy!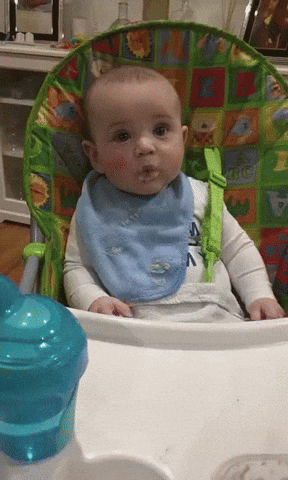 Once you've dressed your baby in its cutest clothes, it will be meal time before you know it, and choosing the right bib is a life-saving choice. As a parent, you will quickly discover that mealtimes are messy. It is surprising how only a portion of each meal actually ends up in your baby's mouth. Baby bibs are a handy solution to keeping food off your baby's onesies and everywhere else during mealtime.
In choosing the right bib, you'll want something that your baby enjoys wearing, that you can clean easily, and that won't hurt your pocket. Most bibs available in the market are made of cloth or have cloth-covered seams where food and drool soak right into the bib, so they need to be washed regularly or, worse, thrown away if mildew sets in. Lack of practical features such as a large pocket that stays open to catch crumbs has made these ordinary bibs not a great option during your little one's mealtime.
With these Waterproof Apron Baby Bibs, you'll be able to keep those cute little rompers virtually stain-free, all while adding adorable style to your little one's outfit and having a happy baby. They feature a stay-open front pocket that resembles that of an apron that will save your little one's clothes from stains, drips, and messy accidents easily!
Your baby is only a little one once! Have fun buying these bibs in different patterns and styles. With so many options to choose from, you can find more ways to mix and match your baby's dress – even during mealtime.
Whether you want to make a statement or keep baby's clothes protected, these Waterproof Apron Baby Bibs are practical, functional, and adorable baby items for every parent out there who are shopping for their young's essentials.
Product Features and Benefits:
Cleaner Mealtime – extra-wide pocket stays open and catches more dropped food keeping your baby clean and dry during meals.
Ensures Baby's Comfort – this soft cotton/EVA bib fits comfortably around the baby's neck, and the adjustable strap ensures the perfect fit as they grow.
Adorable Kids Need Cute Accessories – the only thing more adorable than your baby at mealtime is your baby at mealtime in a cute-designed bib.
Time and Money- Saving – with these bibs, mealtime clean-up is quick and easy, and you no longer have to constantly wash or throw away stained bibs.
Brilliant Gift Idea - give these comfortable and reusable bibs as a baby shower gift or to your favorite toddler at their birthday party.
Great for Travel- these unisex bibs are great for home use or travel. They easily roll up and fold, so you can keep them in a diaper bag or suitcase as needed.