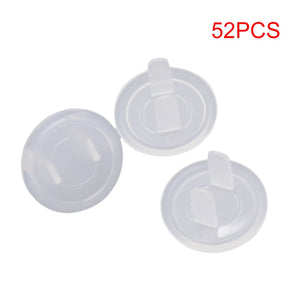 Product Description: 
The best outlet plugs to keep children away from electric hazards, keeping babies safe.
Our outlet covers are ULTRA clear to blend into your home while keeping your home a safer place
These outlet plugs are simple to install - simply insert the safety caps in the unused outlets, plug protector will fit firmly in the outlet
Helps protect babies from placing dangerous objects in unused outlets, it's a must for all parents. You can also use these covers as socket sealers to prevent cold drafts in the winter!
Standard's Outlet Plugs help protect children from potentially dangerous open electrical outlets.

Our extra-tight child-protecting fit makes sure the caps stay where you put them.

Sleek Design

These Outlet Protectors are ULTRA clear so they won't be an eyesore in your beautiful home!

Durable plugs fit standard electrical outlets for added safety

Prevents insertion of fingers or small objects

Can make you safer

Size: 3cm in diameter

Material: ABS
Product Includes:
52pcs

   x     socket  protection caps