If your child isn't potty-trained and they want to dip into a swimming pool or on a beach, you need Swim Diapers. Regular diapers won't work.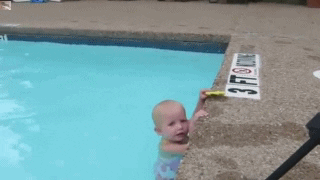 Getting toddlers and newborns into the water at an early age is a great way to get them comfortable and confident with the water. The benefits of getting kids swimming at an early age have also been shown to produce significant improvements in motor skills. One study found that kids who started swim lessons early had as much as a two-year advantage when it comes to motor skills compared to non-swimmers.
When you head to the beach or pool with a baby, the first thing that comes to your mind is probably to grab a pack of disposable diapers. But regular diapers won't work because the material that makes diapers so absorbent turns them into a waterlogged anchor around your child's waist once they are submerged in water. Not only is their absorbing action rendered useless once they soak up water, but their weight makes them super saggy to the point of falling off. And they definitely can't hold anything inside once they're stretched out. So, what's the point of bringing those? A reusable swim diaper makes a lot more sense.
If you take infants or toddlers swimming in the summertime, you know that getting them ready can be a challenge. And getting them in the pool or to the beach means also being mindful of the messes that they can leave behind. No parent wants to be the one that gets the pool closed for general cleaning because their kid pooped in the water. This means outfitting your little ones with a Baby Adjustable & Reusable Swim Diaper.
Their job is to keep poop from leaking out into the pool. If the kid poops, the poop is contained; you just have to dump the poop and rinse out the diaper. The reason swim diapers are so important is because they help protect your kids and other swimmers in the pool from waterborne diseases that may be transferred via fecal matter. As you can imagine the consequences of children's poop leak-out in swimming pools is not only inconvenient as the pool needs to be evacuated, it also presents a health hazard as one of the types of bacteria found in a fecal matter which is resistant and difficult to kill, it is also expensive as the pool needs to increase the chemical levels to kill the bacteria then decrease them to safe levels for swimming as well as go through a back-washing procedure so a lengthy closure.
These Reusable Swim Diapers are made of waterproof fabric and are fully adjustable using snaps on both sides of the diaper. They can also be worn as the bathing suit or can be worn under the bathing suit. These swim diapers have the usual bells and whistles that you would expect: a waterproof polyester outer shell, elastic Lycra leg cuffs for an adjustable fit, and snaps that can fit babies of any size and shape. These reusable swim diapers come in a bunch of cute patterns and have a light absorbency which is also fairly easy to launder. Plus, they are way cheaper than other reusables.
If you own a pool, make sure your guests know the importance of using swim diapers and not letting their children swim if they are sick with diarrhea. It will make everyone's swimming experience much more pleasant. Using these reusable swim diapers is a good way to be economical, make an easy choice that's gentle on the baby's skin, and help to cut down on waste. Just remember two things: DON'T let kids swim who have diarrhea and FREQUENTLY check your kids' swim diapers.
How to Wash a Soiled Swim Diaper:
Rinse any stool out of the diaper immediately
Turn diaper liner inside out, being sure to re-attach any Velcro fasteners to protect them from damage
Machine or hand wash as directed in hot, soapy water
Never use bleach, since it can be harsh on the elastic
Machine or line dry as directed
Specifications:
Gender: Unisex
Pattern: Stylish and fashionable design make your baby more attractive
Great for casual, Daily, party or photoshoot, also a great idea for a baby show gift.
Adjustment: Adjust to fit baby. A snug fit in the legs and waist is key to avoid leaks. Elastics waist and legs: Interior Polyester Elastics at the waist and leg openings with soft Lycra bindings provide a secure, stretchy fit and easy on and off.
Size: For babies weighing 3 - 15 kg (6.5–32pounds)
Dimensions of insert: 35cm in length (13.77``) X 13.5cm in width (5.31``)
Wash temperature: Under 30°C. (Less than 86 °F) (ATTENTION: Please wash diaper cover and the insert separately, please do not wash diapers together with your other clothes. You can add a little salt in the water when you wash diapers
One size design: S.M.L all in one size. (Please adjust the button according to the body size of the baby),Suitable for babies from birth up to 3 years old. Fully reusable. Machine washable (30 degrees), do not iron, do not tumble dry.
Material: Outer 100% PUL. Inner 100% Nylon - which will catch any solids
Package Includes:
1 x    Reusable Swim Diaper