Sleeping Support U-Shape Maternity Pillow
Getting a consistent good night's sleep is No Easy Feat!!! That's one thing you can certainly expect during your pregnancy. Women are used to sleeping in whatever position feels most comfortable and familiar to them, but that tends to change in pregnancy. Some sleeping positions may not be as safe for pregnant women and the growing fetus as others.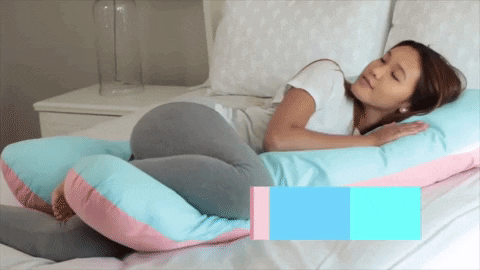 To grow life in your womb is God's miracle, and no amount of happiness can compare this joyous event. However, there are quite a few challenges in getting pregnant, such as morning sickness, body size and shape adjustments, changes in appetite and moods, and other pregnancy woes.
One of the many changes you will come across during pregnancy is difficulty in sleeping. As your tummy grows big, it becomes uneasy to fall asleep, resulting in fewer hours of your shut-eye moments. Sleep deprivation during pregnancy is valid as it is one of the ways how the body reacts to the changes it faces. However, lack of sleep leads to crankiness, irritability, mood changes, and other not-so-favorable results add to the challenges you have to deal with during pregnancy.
This product answers your sleep problem …the U-Shaped Maternity Pillow. It can help with sleep, breastfeeding, aches, pains, and more! Both during pregnancy and after your baby is born, your body will go through so many changes and will be quite sensitive - a Soft and Ergonomic Maternity Pillow could become your favorite new companion.
Benefits
Supports Your Body - As your body shape changes during pregnancy, you are likely to need more support for different parts of your body to help prevent aches and pains. 
Aids in Blood Circulation - Healthcare professionals recommend that pregnant women sleep on their left side as the baby develops. Not only is this believed to encourage the baby to get in the optimal position for birth, but it also has a positive effect on your blood circulation by providing the appropriate support and relieving pressure on your body. 
Alleviates Your Allergies - Even if you've never suffered from allergies before, pregnancy hormones can make women more likely to develop allergies, respiratory problems, or skin rashes. These pillows are crafted from hypoallergenic fillers and materials.
Relieves Heartburn - As the baby grows, there's less space for your internal organs, and many women find that they suffer heartburn as a consequence. This can be particularly bad when you settle down to sleep in a horizontal position. One very easy way to ease heartburn and acid reflux is to use this pillow to elevate your upper body while you sleeping on your left side.
Comfortably Safe - It is easy to think that being uncomfortable is an inevitable part of being pregnant. However, this pillow cushions your body, its softness helps you relax and unwind. Using a body pillow also ensures that you don't end up sleeping on your belly, which is both uncomfortable and lethal.
Versatile - Can be used to support the baby during feeding or used as a barrier when you lie the baby down so that they don't roll over and injure themselves. Its removable pillowcase makes it very easy to clean. You can simply put the pillowcase in the washing machine and it's good to go.
Features and Specifications
Soft and comfortable cotton material
Eco-friendly and healthy inner filler
Curved end design maintains natural separation of thighs
Back cushion design for a comfortable sitting position
Large size, stable cushioning performance
Zipper design for a removable filling
U-shaped pillow with ergonomic design, comfortable for use
Suitable for pregnant women, and side sleeper
Can be used as a back cushion, soft and practical
Multiple support areas design can provide effective protection
Color: White, Purple, Pink, Blue, Green, Camel
Filling: 100% Polyester Fiber
Pillow Case: 100% Cotton, Velvet.
Pillow Core: Pearl Cotton
Design Pattern: Cartoon, Solid, Spot.
Shape: U-shape
Weight: about 1.3kg
Suitable Women Height: 175cm or below 175cm