Starry Sky Projector Night Lamp
Watch Your Room Come to Life with the Wonders of the Universe…Cast the Beautiful Images of the COSMOS Right into Your Walls and Ceiling!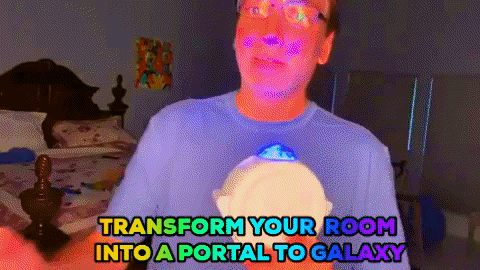 Are you tired of having a dull and boring bedroom? Or do you suffer from a troubled sleep? If so, then you should consider adding a star projector in your room and let yourself unwind and relax into a peaceful night of sleep. It's also perfect for bringing style and substance into the room without adding-in bulky and pricey decors. What could be better than having STARS projected on your ceilings and walls?
You can create a soothing and relaxing atmosphere in your bedroom with this star projector night lamp. The spectacular Aurora Effects that this star projector makes are really calming and relaxing to look at.
This projector lamp is also a great tool for children who need extra help sleeping at bedtime but with an effect that can also be enjoyed. The Starry Sky Projector Night Lamp is a must-have to keep your kids calm and your sanity intact. It may be difficult for you to make your children sleep at night, especially when they are in their infancy. You can make that task easier with this star projector lamp.
This Starry Sky Projector Night Lamp projects light in the shape of stars, moon, and likewise. The projection can be made to fall on the ceiling of your kid's room or at any wall you want. Naturally, your children will be fascinated by the star projection and naturally go to sleep.
Whether you have a child who cannot sleep at night without a light, or you're an adult who would just like some special mood lighting, a star projector lamp is a perfect solution. With this Starry Sky Projector Night Lamp, you'll feel like you're looking out into the stars and moon in the comforts of your CRIB! If you want to turn the ordinary into the extraordinary, these decorative projector lamps can undeniably make a huge difference.
Product Features:
Picking Up Stars for You - this night light projector produces a night sky with twinkling stars, a non-moving moon, and waving clouds for you. Aimed at creating a romantic and relaxed atmosphere, kid's projector night light will fully restore your romantic dream. The beautiful twinkling stars and waving clouds light can help you, and your kids fall into sleep quickly and smoothly.
One-Touch Operation – the updated button lets you control all the operations. Use your thumb to touch the button of star lights gently.
Change the Color Light - The 6 colors of light of this projector change in turn. You'll have one-tone and two-tone lights changing.
Starry Lighting Dances with Music – with voice control function for you. The starry and waving light of ceiling stars dances according to the music you play. Perfectly suited to create an atmosphere for a wedding, party, kid's room, birthday, indoor yoga, and spa.
USB Charging - Please connect the projector with a USB cable from the 5V/2A power adapter. It will be fully charged within 2 hours. Note: the USB cable is included in this Starry sky night light projector package.
Specification:
Material: ABS engineering plastics
Projection light source - LED
Projected distance: 2-10m
Projected area:
Distance 5M: 40 square meter
Distance 8M: 60 square meters
Package Includes:
1 x   3-in-1 Starry Sky Projector Night Light
1 x   USB cable
1 x   User Manual
Manual Plus APP Control 
There are 2 levels of control mode (using a paddle switch to switch modes): 

Manual mode, that is, you can use manual mode to achieve function switching by touching buttons.




WIFI mode; function switching controlled by mobile APP or smart speaker

APP function 

Color module: You can switch the color, brightness, and color saturation of the watermark;

Scene module: You can customize multiple scenes, choose your favorite watermark color, brightness, color still or multi-color flashing switching, multi-color breath switching

Timing module: you can customize the product automatic shutdown time

Intelligent control; can use smart speakers such as Amazon Echo, Google Assistant to voice control 3-in-1 moonlight:

Switch, color switch, brightness adjustment, etc.

Voice control mode: according to the change of external sound or music rhythm, the light flashes in response to the change of rhythm
Note: The item uses the USB, does not include the Plug
This Star projector lamp provides a wide range of benefits. Whether you're a toddler or adult, this product spells fun and excitement.
Benefits of Using Starry Sky Star Projector Night Lamp:
Entertaining - People don't use star projectors for lighting purposes only. These are visual stimulants that will keep you entertained and relaxed while you're resting.
Decoration -. It is so easy to incorporate the star projector when planning your child's bedroom decor.
Educational - This tool is more than just a regular nightlight for children. A star projector is ideal for educational purposes, too. It helps educate kids about our vast universe. It fosters their creativity and gets them interested in science.
Romantic Night Booster - Star projectors aren't only intended for children. You can have a bit of fun with the use of a star projector, too. You may use them to enhance your romantic night with your partner. You can use it to make your anniversary or wedding night extra special.
Makes your Kids Brave the Dark - These simple decors serve as a night light for kids afraid of the dark. Your kids can get up and go to the bathroom or get a drink of water at night without turning on all of the lights in your home.