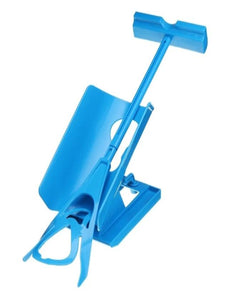 Designed for PREGNANT MOMS whose limited mobility makes them struggle to crouch while pulling on their socks, these clever contraptions are a great addition to any morning routine. It helps them do the task even without assistance.
If you are looking for a device that wouldn't just help you put your socks on but also put them off? Then, this sock assist is definitely worth your purchase consideration. Some people with mobility issues usually have trouble putting on their socks or stockings. You might find it hard to open a sock wide enough to slide your foot in with just your hands, but thankfully, this Sock Aid Sock Slider Kit will do this for you. This device helps you get ready faster by making it easier for you to slip on your socks without having to struggle to bend over. It will even hold the sock in place at the same time, so if your foot wiggles, it will still be able to enter the sock in an ideal position.
Furthermore, at the end of the day, the long-handled plastic stick that comes with each system will enable you to grab onto your socks and pull them off without bending over. It'll also hold each of your shoes in place when you need to put them on. Designed with user convenience in mind it consists of two parts: a sock slider and a long plastic handle, and the latter part are just what you need to remove socks in the most effortless manner. This device works perfectly with any type of socks, be it athletic, casual, dress, or compression ones.
Unlike any other sock aid products in the market which are lousy in terms of performance, the Sock Aid Sock Slider Kit's innovative design provides efficient support to anyone with mobility problems like PREGNANT MOTHERS. Proven to be useful not only to obese people but also for those suffering from problems related to the spine, back, knee weakness, and other articular diseases as well as post-injury patients. Even without the use of both hands, this product will bring back the simplicity of wearing your socks. One simple step and they are on, one swift movement and they are off.
Features and Benefits:
Comes Apart -- The Sock Slider system can be taken apart into a few different pieces when you're not using it, so you'll be able to fit it into virtually any suitcase for travel. You'll also be able to store it almost anywhere in your home.
Made of Plastic -- The Sock Slider system is made of plastic, so most users won't find it heavy to carry in a suitcase, bag, box, or one's own two hands.
Ideal for Pregnant Women --- If you've been pregnant, you've likely found it hard to bend over a larger-than-usual belly and put on your socks. The Sock Slider will eliminate this problem for pregnant women, as with it, bending over will no longer be required. All you'll need to do to put on your socks is lift each foot a few inches off the floor.
Will Help Reduce Pain --- Bending over to put on socks can be downright painful for people suffering from physical problems, such as arthritis, back pain, and knee pain. Whether your physical problem is temporary or permanent, your Sock Aid Slider can help you reduce your overall level of pain by helping you slide on your socks without a struggle.
Works with All Socks --- You won't have to limit your use of this system to the days when you're wearing standard casual socks. Almost any sock will stretch over the cradle of the system, regardless of what material it's made of or its size. The cradle will even accommodate medical compression socks
Will Help You with Shoes --- Once you've got your socks on, you'll still need to tackle putting on your shoes, and the Sock Slider will eliminate the need to bend over while you're doing this, too. You can just grab your long-handled blue stick and hold onto the back of each shoe with its teeth while you slip your foot in.
No Batteries Required --- You'll never need batteries to operate this system—just your own hands and feet.
How to Remove Socks Using this Slider
Package Includes: