Babies are impulsive by nature and instinctively puts any object they hold in their mouths. If you take away that object, they can fuss and throw a bit of tantrum we all know! Start giving your baby something safe to chew on and soothe their gums. This Silicone Banana Toothbrush Teether will help relieve your teething baby.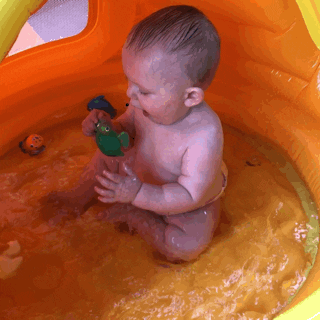 Almost everything in a young baby's life is a new experience. By nature, they're programmed to put their senses to the test by touching, feeling, and yes, putting things in their mouths. Most babies will try to put things into their mouth at an early age, as they find it comforting to do so. Especially when they are teething, babies love to chew on a variety of things- pillows, stuffed toys, edges of baby books, fingers, and the list goes on.
The growth of the first tooth is definitely the most exciting experience. Aside from the excitement, teething is also a little bit frustrating period for both the baby and the parents. Once the process starts, your baby will start to feel a lot of discomfort including fever, sleep disturbance, a decreased appetite, red sore gums, and he/she can start biting more than usual and may even experience diarrhea. When you note some of these symptoms, it is normal to want to help your baby feel less pain. Luckily, this is made possible thanks to fever medications and these Silicone Banana Toothbrush Teether. Teething is also the period when infants want to put everything in their mouth because of the pain in their gums, so baby teethers can be very useful items. These infant toys offer a lot of benefits for a teething baby. 
Teethers give babies something safe and durable for them nibble on, and feature designs that make it easier for babies to grip and put in their mouth. It's very soothing for babies to chew on something hard that offers adequate resistance like a teether. The fun soft banana shape of these Silicone Banana Toothbrush Teethers and a toothbrush-like head of massaging bristles are the perfect introductions to a fun brushing experience as early as 3-4 months. Its unique flexibility makes it safer than traditional infant training toothbrushes.
This mini banana teether is sized just for little ones with banana-peel loop handles that are easy for babies to grasp. The 100% food-grade silicone is soft and flexible to prevent injury. it's comforting and stimulating for babies to chew on. Pop it in the fridge to cool or the dishwasher to clean. The tender gums feel better when light pressure is applied to cold soft Silicone. Just like when we hurt ourselves, putting pressure on an area of soreness can help alleviate pain and relieve some of their discomforts. These infant toys offer a lot of benefits for a teething baby. 
Product Features:
Completely flexible to prevent oral injury
The banana peel handles are easy for little hands to grip
Thick bristles intended to massage sore teething gums
Now available in a variety of colors to suit any baby's style
Recommended for ages 3-12 months
Infant Toothbrush with "peel" handles; able to hold a binky strap
100% food-grade silicone; dishwasher safe for sanitizing
Package Includes: