Post Pregnancy Tummy Tuck Underwear
Baby's Out… So, What's Making the Belly Bulge?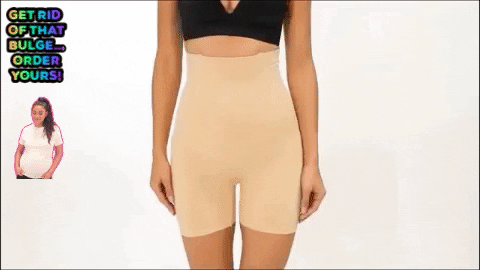 Congratulations! Your body just brought out to this world a new human being. That's super incredible! Chances are, your stomach is still sporting a post-pregnancy pooch, even if you've lost the bulk of your baby weight. You've had your baby, but you may look as if you're still six months pregnant, with a tummy that's squishier and rounder than you expected. It takes time for your body, and especially your tummy, to fully recover from pregnancy.
If you're like most new moms, you've probably got a few "battle wounds" that prove you came through. Those are postpartum fun like exhaustion, rollercoaster emotions, tears… and that postpartum belly that you acquired during the whole course of pregnancy because of excess weight. But who's exactly to blame? Well, it's a little of everything. Your belly bulge because your abdominal muscles stretched out due to added weight. On top of the weight gain and the stretching, your body produced hormones to make the connective tissue more elastic so the bulge that stubbornly hangs out at your midsection appears.
These lightweight Post Pregnancy Tummy Tuck Underwear will quickly become your favorite go-to control your midsection and make you look and feel thinner. It smooth-out any lumps or bumps in your problem areas without the tight, uncomfortable feeling of most shapewear. and in turn, boost your self-esteem. These control underwear are designed to comfortably keep your tummy and hips in check in order to create the illusion of a slimmer waist and a flatter stomach with a smooth, firm finish.
If you feel self-conscious about how your curves look in certain outfits, these Post Pregnancy Tummy Tuck Underwear can help raise your confidence and make you feel and look great without worrying about Postpartum Belly Bulge.
Benefits of our Post Pregnancy Tummy Tuck Underwear
FOR DAILY WEAR -
Seamless brief with no visible panty lines.
For excellent coverage control all over from your hips to your tummy.
High-waisted that helps to provide extended smoothing and slimming all around. 
Comfortable to wear all day and improves your posture for an elegant look. 
Very breathable to ensure maximum comfort at all times.
The lining of the panty is made from 100% cotton to ensure maximum breathability and prevent even the slightest irritation of your sensitive skin.
Wear it to sleep and wake up with a flatter tummy the next day!
WHEN YOU HAVE PERIOD 
Helps to keep your uterus warm to lessen cramping.
You can even put a heating pad at your abdomen area.
Gives you a really secure and comfortable feeling. 
POSTPARTUM 
Lose inches overtime
Look slimmer instantly.
Help to shrink, tighten, and shape your belly, waist, and hips.
Sizing Chart