Take Your Baby Back to the Days in the Womb when Everything is Comfortable, Safe, and Snug with the Organic Cotton Bamboo Multi-Purpose Swaddle Blanket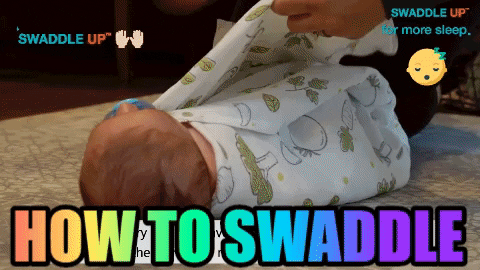 Swaddling is one of the most gentle, effective, and beneficial practices for parents and their children. It is said to be familiar to babies, as it mimics the secure and cozy feeling of the womb. It has also been said that swaddling babies prevents spontaneous movements or startle reflex from waking them which allows for a much more peaceful night's sleep. Swaddling triggers a "relaxation" mechanism in infants that helps soothe them. And it can even help develop an infant's tactile system so they become comfortable with being touched, which is key to healthy development.
In their first few days of life, your newborn's internal thermostat needs time to adjust to its new environment. This Organic Cotton Bamboo Swaddle blend helps keep your baby at the optimal temperature while their bodies learn to regulate their own temperature. The moisture-wicking property of Bamboo rayon helps maintain a constant temperature and prevents the baby's body from getting too hot or cold. Did you know that Bamboo is also naturally antimicrobial?
If you're expecting a new arrival soon, get your Organic Cotton Bamboo Swaddle now and experience fewer sleepless nights once the baby is here. If your baby is already a few weeks old- it's not too late! Although many parents swaddle right from the get-go, you can always start swaddling when your baby is a bit older.
Experience the soothing benefits of swaddling for yourself with our breathable Organic Cotton Bamboo baby swaddle wraps!
Swaddling has a number of key benefits for both parents and babies – when done correctly and safely.
Benefits of Swaddling Your Baby:
Babies who are swaddled sleep longer and more soundly.
Swaddled babies experience less anxiety.
Swaddling prevents unnecessary wake-ups due to the startle reflex.
Using a swaddle eliminates the need for comfort items in baby's crib – no pillows, bumpers, blankets, stuffed animals, etc. (using these items in crib have been linked to SIDS)
A swaddled baby can't scratch their face.
Swaddling mimics touch, which is important for baby especially when they wake up at night.
Wearing a swaddle helps maintain the baby's back-sleeping position, and also reminds tired parents to place the baby on back to sleep.
Swaddling soothes babies with colic (again, when swaddled, they feel secure and safe just like they felt in the womb).
Using a swaddle with baby in the hands-over-heart position is the preferred sleeping position for babies; in this position, they learn to self-soothe and can get back to sleep on their own.
Swaddling benefits parents too — when the baby sleeps more, mom and dad sleep more!
Material: 70%bamboo+30%cotton
Size: 60 CM x 60 CM