A Multifunction Baby Carrier
Engaging in household chores while having your baby with you is so rewarding as much as it is very challenging for parents nowadays. Babies can seem unbelievably heavy if you carry them around throughout the day, and it leaves us with no choice, especially with our busy lives… Not anymore!!! There Is an easier way to deal with this parenting dilemma while enjoying the cuddle moments with your baby.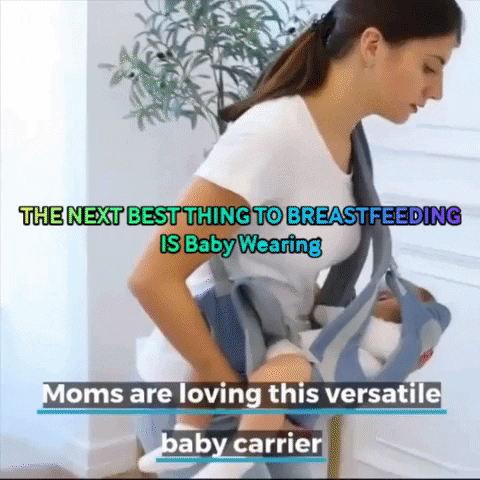 If you have a baby at home, it's normal that you're likely carrying them for hours on end. Babies want to be near and held by you. But this needs that your baby can make daily life a lot challenging. How are you going to wash the if you have a baby in your arms? How about pouring yourself a glass of water or carrying grocery bags? The ultimate solution – Babywearing using this Multifunction Baby Carrier.
Babywearing- the method of wearing or carrying your baby with the help of a special carrier- has been around for quite a historic time. In this Modern Day and Age, parents have embraced this instinctively human caring way for the young. That's because babywearing provides the best of both worlds—a loving way to hold your baby and the convenience of using both your hands on other activities.
This babywearing tool, Baby Carrier, cast out all your worries of leaving your baby out of your sight while you are busy with your household activities. It is a best-of-both-worlds essential parenting tool wherein you'll have both of your hands, free to multitask and still be able to keep your baby.
Soft, cozy, and super comfortable; it is the sweetest way to stay connected. No complicated wrapping or tying, this CARRIER is a simple way to keep you and your baby close as you find your new rhythm together.
And really, a carried baby is a happy baby...and doesn't that make parents happy? The closeness stimulates beneficial hormone production, resulting in a more intimate parental bond.
Benefits of Babywearing:
Strengthens the bond between parent and baby, as you maintain a closeness throughout your day, especially during the "4th trimester."
Aids in baby's development, both physically and emotionally, including promoting early language development. And did you know that a carried baby is generally calmer thanks to all of her primal/survival needs being met?
Decreases risk of SIDS and flat-head syndrome.
Promotes neural development, respiratory and gastrointestinal health, and aids in balance.
Let moms discreetly breastfeed on the go.
Boosts breast milk production due to close contact with a baby.
It allows caregivers to be "hands-free" to get stuff done while still holding the baby.
Promotes early language development. Babies learn by watching faces, and babywearing puts your little one at conversational height- "the best seat in the house."
It allows parents to see more of the world through the baby's eyes. And your babies get to discover their new world from the safety and comfort of your body.
Fosters a closeness through toddlerhood. Toddlers can be worn too, reminding them of their "home base" and allowing that bond to continue as they grow.
Fosters a close parent-child bond through toddlerhood. Toddlers can be worn too, reminding them of their "home base," and allowing that bond to continue as they grow.
Features
Detachable Front window can be pulled down when the strong wind in autumn-winter prevents the baby from being cold; Stuffy Spring summer, pull up will be comfortable and breathable.
Removed windproof hood to prevent the baby from sun exposure or head cooling in summer.
Backstrap waist seat connection button: Fixed with a buckle plus zipper, safe and firm.
Backstrap pocket design: Front pocket can hold a mobile phone, saliva towel, and other sundries, convenient practical.
Bar tack process: Reinforce Fasten bartack of the back strap.
Functions:
baby sling
baby wrap carrier
baby hip seat carrier
baby holder
ergonomic baby carrier
baby holder carrier
Specifications:
Color: As shown
Age Range: 0-36 months
Load Bearing: 36kg
Material: Cotton