Letter Recognition Word Spelling Toys
Don't Mistake These Wooden Alphabet Pieces for Just Being Toys! Not Only Are These Pieces of Letters FUN,... they are also Educational!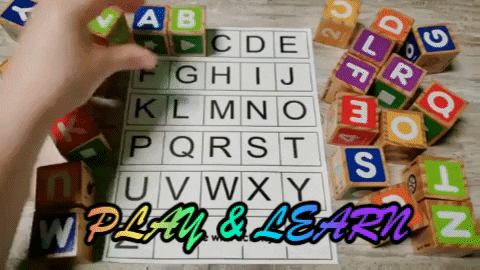 As parents in this present time, we emphasize education and its importance to our kids, and nobody can refute this way of thinking. There is no doubt that we should invest a huge deal in our children's proper education, and it is a good idea to start early in their childhood.
It is crucial to know that part of children's life is play – it is simply their way of being, learning, and interacting with the world, and it can also be a great opportunity for gaining practical knowledge. Educational toys are widely available and very effective because they make learning fun, playful, and it doesn't become a burden for the kids.
Spelling is one of the basic skills that everyone, especially our kids, will need in their life, and this Letter Recognition Word Spelling Toy is an excellent product that allows young children to learn letters while improving their memory along the way. It also gives children a way to interact with the alphabet through hands-on play. They can feel the shape of the letter and arrange multiple letters to form letter strings or words. Letter recognition is a key step in a child's ability to learn to read and write. As children play with these wooden letters toys, they know the letters they interact with. 
Playing Letter Recognition Word Spelling Toys can be super fun and engaging for kids, which is great because they also have enormous educational benefits. Your kids can improve their vocabulary, encourage focus, and promote problem-solving skills. Think of them as exercises for their brain. Playing word games with these toys can help kids excel in their school performance and everyday life by improving communication.
This Letter Recognition Word Spelling Toy develops sight-reading vocabulary, letter recognition, spelling skills and encourages fine motor skills. It's an easy and exciting toy that multiple children can play with at once, helping them develop important social skills. These letter games can help children develop eye-hand coordination, color recognition, visual perception skills, and problem-solving skills, perfect for the child who cannot write yet. It is also important for children who are beginning to read and write.
We all know that learning is more effective when it's also fun… with these Letter Recognition Word Spelling Toys, kids will love the way of sorting the wooden blocks and matching the cardboards to learn alphabets and words; it will keep them engaged for hours.
Benefits of Educational Toys
Children love to play – it is their way of life. It is a very natural thing for them, and thus, allowing them to learn something through their toys is paramount. This toy product is good to start with.
IQ development – using an educational toy can seriously benefit the child's mental development. Educational, especially spelling toys, introduce kids to literacy, challenge their motor skills, and improve their memorization abilities. Through hours of play, the children can analyze the toys they use, become more skillful at the games, and better understand them, which can ultimately raise their IQ levels.
Develops social skills – Educational toys are not only about learning some new information, but they can also benefit a child's social development. Many of these kinds of toys are made for more than one player, and having a kid playing with a friend can teach them about sharing, cooperation, taking turns, and so on. These are precious skills to practice to become a well-rounded grown-up.
Educational toys draw kids' interest – Kids learning styles vary – some are more visually stimulated and others kinetically, so one method does not apply to all. Finding out what captures your child's interest can help you choose the right educational toy for them, which can, in turn, make them want to play/study more, simply because they find it intriguing.
Product Features:
Bright Color - Bright colors and vivid pictures will attract children's attention and stimulate children's interest in learning. Kids can learn not only the letters but also some words of animals.
Fun & Educational Game - Spell alphabet matching cards contain 28 two-sided flashcards and 26 high quality smooth, colorful wooden blocks that easily handle letters to spell 3 and 4 letter words. Children find the corresponding letters by color and corresponding animals.
Smooth Edge - The wooden blocks have a smooth finish so that it won't splinter or hurt your baby's hands, and it is also large enough to prevent accidental swallow.
Product Specifications:
Material: Non-toxic Cardboard and Wood
Color: Multicolored
Alphabet: 26 Pieces Letters, 28 Flash Cards
Suitable Age: 3 Years+
Alphabet Flash Card: 8.26" x 2.95."
Wooden Blocks: 1.9" x 1.18" x 0.19"