Kids Soft Fleece Stereo Headband
Kids Love Style,... and Cuteness is Generally A Must. After All, Aren't All Kids Just Adorable? Spend on Some of These Cute Headphones That Will Surely Make Your Heart Melt!!!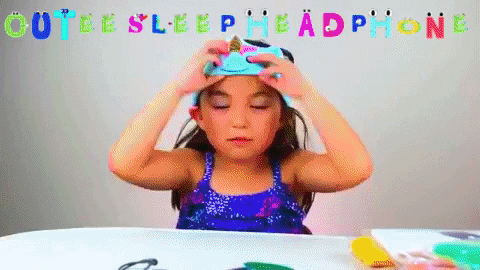 Are you staring at your child's noisy tablet and thinking it's about time they got a pair of headphones? Do Your Kids Really Need Special Headphones?
With the amount of kid-friendly media increasing at the same rate as parental stress from having to watch or listen to all that stuff, it's never been more important for your kids to have their own headphones and those headphones need to be designed specifically for them.
Also, kids break things, lose things, or simply tire of things and stop using them. All of these issues factor into the decision Headphone-makers consider when designing headphones for kids. Plus, the excellent sound quality with volume limitation might be all your child needs.
In this modern age of smartphones and tablets, kids are listening to headphones from an early age, and the need to keep overall volume levels to a reasonable maximum is real. Headphones are great in many ways, they keep little ones distracted and give us a much-needed ear break. However, there are some safety precautions we as parents must take.
For example, we all know too well that listening to high volumes for prolonged periods can weaken our hearing. The same goes for children. Kids can hear frequencies older people can't, mainly because they haven't been exposed to the loud elements of the world for as much time as we have.
If the volume is consistently at a high level, it could cause damage to their little eardrums, and they can lose hearing over time.
These Kids Soft Fleece Stereo Headbands are great for young children who have problems tolerating traditional headphones. Each pair of headphones is designed and shaped like an adorable character and is soft, as well as wearable, resembling a cozy headband. The volume is limited, which protects the hearing of sensitive young ears.

The whole design revolves around an adjustable headband made from fleece. These have built-in ultra-thin speakers around the ears and barely noticeable transforming them into headphones. These ultrathin speakers in a soft, stretchy headband are more comfortable than traditional headphones. So comfortable that kids can often fall asleep while wearing them.  You can quickly remove them and then wash the headband in the washer.
The plug of the headphones is a 3.5mm stereo plug, while the cord is braided for durability, and tangle-free. The headbands are adjustable, suiting all types of size, and will not interfere with the proper wearing of seatbelts or positions in car seats.
These super comfortable headphones are cuter than cute. The unique design and functionality of these headphones make them a great choice for your Kiddos!
Product Features:
Suitable for home, school, and travel
Ideal for shared living situations (families, dorms, shared work and workout spaces)
The flat design stops ear pain
No-bulk headphones
Light-blocking pull-down feature converts headband into a sleep mask
3-feet of braided cord ensures enough strength and length for everyday use
5mm stereo plug fits pretty much all of your favorite devices
Wide choices of cute cartoon design
Specifications:
Function: Noise Cancelling
Frequency Response Range: 20-20000Hz
Active Noise-Cancellation: No
Connectors:5mm
Style: Headband
Wireless Type: None
Volume Control: No
Waterproof: No
Line Length:2m
Resistance: 16Ω
Sensitivity: 120dB
Communication: Wired
Vocalism Principle: Dynamic
With Microphone: No
Control Button: No
Plug Type: Line Type
Product Advantages:
The biggest benefit of this Kids Soft Fleece Stereo Headband is the flat fit it provides. No matter how your child likes to lounge, learn, or travel, the snug, and flat, fit are an ideal headphone alternative.
Children of autism, especially those with a sensory processing disorder, are oftentimes sensitive to noise. As a result, they rely on the use of headphones to limit background noise so they can remain calm and not so overwhelmed. Thankfully, that all changed once the family learned about these Kids Sleeping Stereo Headbands which have become a go-to for parents who are trying to find ways to better serve children who battle with autism and sensory processing disorder.
Other benefits include:
lightweight
soft, fleece fabric
easy to clean
a long, sturdy cord
flat earbuds (no poking!)
easy-off
various options for size and material (kids, adult, adult Lycra or fleece material, travel set)