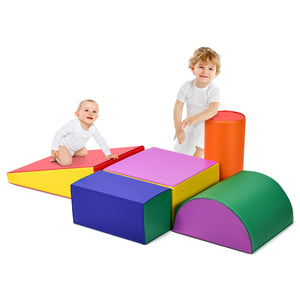 This Colorful & Safe
Climbing Foam Blocks Play Set
Offers Many Important Benefits for 
Early Development
 of our Little Children.
As a parent you'll surely love watching your kids playing with these foam blocks because it's very easy to use, clean, it is portable, and can also be customized so you won't have to worry about activity and entertainment even when away from home. They also encourage children to develop fine-motor skills, visual sensory development, and hand-eye coordination as well as teaching your kids valuable logic and reasoning skills. Although designed for toddlers, it's also suitable to play with at an earlier stage as their bright colors enhance cognitive development and it's safe to say it grows with your little one.
As they grow and their eyesight develops, the colors become clearer and their focus sharper along with coordinated motor skills, it becomes easy to play with all the pieces. Other than engaging the facial and neck muscles, they're going to rely on their legs and arms as well, climbing, crawling, and walking. Therefore, these
Kid's Climbing Foam Blocks Play Set
forces your little ones to use hands and feet to explore the different block pieces which is what contributes to their physical development. Plus, they are a fun way to spend parent/child bonding time working on communication and sharing skills.
And if you are looking for a special gift for your little kids, this Kid's Climbing Foam Blocks Play Set must be a perfect choice. With different shapes that can be placed in random positions and assemble, these large foam play blocks offer endless fun and entertainment to kids. Though big in size every piece of the blocks is, each one is lightweight enough so your kids can arrange them freely. The striking colors and fun geometric shapes are attractive and encourage their creativity while playing.  This toy furniture set is made by the pearl cotton filer and PU cover, which is soft enough to bring more comfort as well as protection. It is sturdy enough to support the weight of your children. So, they are great for climbing, sliding, walking, and crawling games. Take it home! It is a great gift for your little ones with or without occasion!


Product Features:
The soft surface can protect your children from getting hurt

Comfortable pearl cotton and wearable PU cover for long time use

Lightweight for free arrangement and easy transport

Different shapes of the block can be placed in a different position

Suitable for kids to crawl, slide, walk, and sit.

PU surface, easy to clean and maintain

Specifications:
Color: Colorful (show as picture)

Material: PU, EPE

Net Weight: 7.5lbs

Square Block: 16" x 16" x 8"

Rectangle Block: 16" x 8" x 8"

Cylinder: 16" x 8" x 8"

Half Cylinder: 16" x 16" x 8.5"

Trapezoid: 16" x 8" x 24"

Age Range: 9 months to 3 years old
Package Includes:
1 x     Kid's Climbing Foam Blocks Play Set