Kids Blue Light Blocking Glasses
Experts Predict that Digital Devices will Continue to Become a Bigger Part of Kids' Lives in the Future.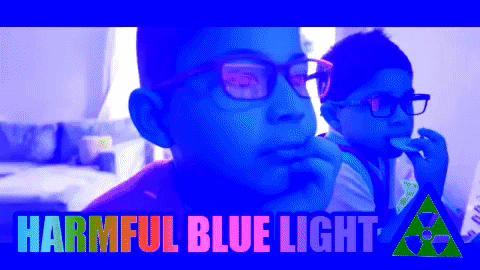 Do your kids spend a lot of time looking at digital screens? The blue light emanating from the screens of video games, smartphones, tablets, computers, and televisions can affect kids' vision and their overall health. Protect their eyes from harmful blue light with these Kids Blue Light Blocking Glasses. Blue light is a high-energy light wave that is found in sunlight and digital screens.
Growing evidence and research show that, at the least, overexposure to blue light due to screen media consumption can produce digital eye strain, headaches, and a lack of deep sleep in children. At the worst, exposure to blue light over time can lead to damaged retinal cells and the early onset of macular degeneration, which can lead to vision loss.
Most children use their smartphones and tablets for more than three hours a day, and with that high exposure to blue light comes symptoms of computer vision syndrome, such as double vision and dry eyes.
These glasses protect your children's developing eyes from the harmful blue light that computers, tablets, mobile devices, and game consoles transmit. A special lens reduces glare and blocks blue light to ease eye discomfort and fatigue associated with the increased use of electronics. These Kids Blue Light Blocking Glasses offer full protection for your kid's eyes so they can use computers safely and fully enjoy playing computer games.
In an increasingly Digital Age, protecting your child's vision and health is a genuine concern mainly due to overexposure to Blue light emission. This Kids Blue Light Blocking Glasses can combat its damaging effects on vision as well as to your child's overall health.
 Product Features:
PROTECT FROM BLUE LIGHT: If your kids are constantly playing video games and looking at digital screens, they need these gaming glasses. They protect your kid's eyes from harmful blue light that can cause extreme eye strain, visual fatigue, and eye dryness.
REDUCES GLARE: Special lenses work to eliminate the glare from computer screens, TVs, tablets, consoles, or handheld games/devices and allows less harmful light to pass through. Now your children can enjoy playing games without eyestrain.
PREMIUM BEND & FLEX GLASSES: These glasses were designed with kids in mind. Silicone frames make them super comfortable and lightweight to wear for long periods of time. They are impact resistant and can be twisted and bend without breaking.
CONVENIENT CARRYING CASE: A plastic hard case keeps the glasses protected from scratches, fingerprints, dust, debris, and other damage. It makes it easy for children to carry and store their gaming glasses in backpacks or knapsacks.
Specifications:



Frame width:138mm

Lens width::46mm

Lens Height:34mm

Bridge width:17mm

Temple Length:126mm

Frame Material: TPEE

Lens Material: Acrylic AC
Package Includes:



1x Children Silicone Glasses Frame
 NOTE:
1.Blue Light Blocking - Kids' glasses (non-prescription) for daily use when children watching a computer, tablet, TV, or Phone.

2. Anti-blue light eyeglasses can filter 90% blue light. Reduce eyestrain and headache; protect your kid's eyes.

3.High-quality food-grade material - The frame is made of Silicone material, light, soft, unbreakable, and safe for your children to wear.

4.UV protection anti-blue light lenses can reduce eyestrain and headache, prevent eye dry and eye fatigue, block blue light, and protect your kid's eyes.

5. These durable and fun eye strain glasses are available in a wide array of styles that your kids will appreciate.