Forehead IR Digital Thermometer for fast, accurate readings of family member's temperatures. 
Have you ever had to deal with a sick baby? You will realize that the pediatrician or health care professional will want to know if a baby is running a temperature. You wanted to check and take their temperature but couldn't see how to hold the baby still.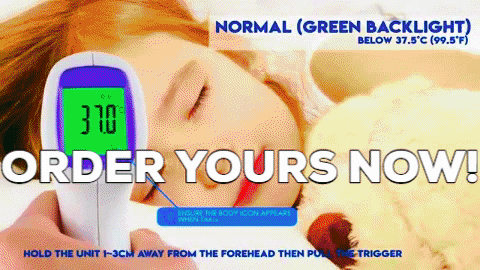 With old-fashioned temperature-taking methods, it can be difficult, or even impossible, to get an accurate reading without distressing the patient. Even thermometers designed for insertion into the ear or rectum can be problematic. A sick baby will push away or wriggle away from anything that he believes will make his discomfort worse, so how can a worried parent get an accurate temperature reading?
The answer to that question is to use this Forehead IR Digital Thermometer, which uses the latest infrared technology.  This thermometer is a non-contact, non-invasive, accurate, and hygienic method of temperature recording. Hold the thermometer 3 to 5 centimeters away from the baby's forehead, and it will pick up the infrared waves emitted by the temporal artery, which runs just below the skin on the forehead. Within seconds, you will receive an accurate reading to pass on to your health care professional.
Many consumers, households, and health care professionals alike are now using the Forehead IR Digital Thermometer. It's fast, accurate, hygienic, and completely non-invasive, making it ideal for babies, young children, and the elderly.  Babies and older people can be confused about the cause of their illness and often become distressed when conventional, invasive methods of temperature recording are used. This Forehead IR Digital Thermometer addresses these problems.
It really is possible to take the temperature of a sleeping baby quickly, accurately, and hygienically without causing further distress. Invest in a Forehead IR Digital Thermometer, and make life easier when dealing with a sick child.
The Forehead IR Digital Thermometer comes with a Compelling Array of Advantages. Here are just a Few Reasons Why it's Well Worth Investing in One:
Fast, accurate temperature readings - gives an almost instantaneous reading, and there is a built-in fever alarm to indicate if the temperature is very high. The thermometer can be used again immediately, which is handy if you have two sick children or if you need to check the reading quickly.
Easy to read - has a backlit digital display screen, which displays the temperature reading in large numbers. Therefore, it is easy to read the temperature, even if the thermometer is used in a darkened room.
Hygienic - Because this does not come into contact with the skin, cross-infection risk is minimized. There is no need to keep separate thermometers for each person in the family or label the thermometer for particular body parts. It can be used immediately on another person if necessary, without the risk of transmitting infection.
Convenient - can be used at any time on any person, even if they are asleep. The thermometer needs to be held a few centimeters away from the forehead. This is always easily accessible, even when the patient is asleep in bed. There is no need to find a special position for the thermometer – point it at the forehead from a distance of between 3 and 5 cm.
No ongoing costs - Once you have purchased, there is no further outlay. You don't need to buy probe covers, and the 30-second automatic shut off feature will prolong the battery life. You will be able to take thousands of temperature readings before it is necessary to replace the batteries.
Multiple Uses - not just for recording body temperatures. It can also be used to check the temperatures of surfaces, foods, liquids, and rooms. Anxious new mothers can check the baby's milk or bath water temperature and make sure the room he sleeps in is at the right temperature.
Thermometer Features:
Non-contact infrared measurement, safe to use.
Lightweight and portable, convenient to carry.
One-key to switch the Measurement Mode, short press the "Set"-key can cycle switch between "temperature mode" and "Object temperature mode."
Two temperature units for conversion: Fahrenheit or Celsius.
Aiming towards the with a distance of 10-30mm.
Automatic storage of measurement data; you can view the data of previous measurements at any time.
LEDs backlight displays can be used at night.
One-second measurement, stable use, and reliable quality.
Specifications:
Color: Purple/White
Material: ABS plastics
Accuracy: 35℃-42℃ ±0.2℃
Accuracy (Surface): 32-42.9 Degrees C (Temperature mode) ±0.2℃
Measurement Distance: 10-30mm
Response-time: ≤2 seconds
Auto-shutdown-Time: 15±5s
Power Supply: DC 3V (2 * 1.5V AAA-Batteries (NOT Included)
Operating condition: 10-35℃, 20%-85% RH or less, 760 HPA-1060 HPA
Package size: 180*120*50mm/7.08*4.72*1.96inches
Package weight: 161g/5.67ounces
Packing Includes:
1 x  Thermometer
1 x   Manual