Baby Walker Toddler Harness Assistant
From sitting to crawling and cruising, your baby's journey to walking is an exciting milestone.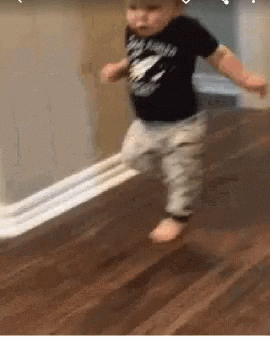 Your child's learning journey from sitting to walking involves a chain of transitions that starts when your baby pulls up to a standing position in a crib then a little stride side to side while holding on to the railings. Once he masters his balance as he moves his feet, he can easily cruise from one point to the next. You'll see big excitement on his eyes as he takes his first solo steps on the horizon and learns that there are a lot of amazing things out in the big wide world once he takes a big step forward.
Teaching a baby to walk takes a great deal of parenting skill and patience, of all the growth milestones. This is mainly because walking signifies the beginning of a child's more challenging phase of life and the end of babyhood. So, don't be surprised if your baby's first steps happen a few months after that solo standing milestone. This process can often take a few weeks to months, so don't get hung up if that first step doesn't happen overnight. Even bigger kids often have issues like bowleg and tiptoe walking that might cause a delay for them to hit their first stride.
Every parent wants their child to learn new things quickly. The idea of carrying babies' arms when teaching them to walk has become quite older now and often takes a longer learning curve. However, taking time might be too straining for parents from all the bending over and leaning forward while assisting the baby. Why don't you offer something new to your baby, which can prove to be comfortable and safe for both you and your baby? Isn't it more convenient for you to hold the railing while climbing up the stairs? Similarly, babies also find it easier to get carried by baby walkers or baby harnesses instead of constant holding on arms. When it comes to your child's safety, every parent wants them to be 100 % safe without any compromise. This Baby Walker Toddler Harness Assistant can help keep your child safe as they embark on their journey to walking.
This Baby Walker Toddler Harness Assistant is ideal for parents with back problems. Its smart and simplistic design doesn't require parents to bend when teaching their child how to walk plus, it is easy to put on your child. You will also like how quickly you can adjust this harness to keep your child comfortable while maintaining his proper posture. This also means that they can use it until toddler age. The cushioned padding of this harness makes it comfortable for the baby even if it is worn for a whole day. Priced low despite all unique features is the major takeaway of this product, therefore you actually get great value for your money's worth.
Product Features and Benefits
No More Backaches: Prevents painful backaches from leaning and bending over while holding your baby's hands. With this walking harness, you can easily assist your baby's walking without breaking your back. Enjoy more quality time together even for a longer practice time.
Boosts Confidence: Helps your baby gain confidence as he will think he is actually walking on his own. Encourages your baby to walk at her own pace and get over her fears of tumbling down which will then quickly develop into walking independently. Get your baby to start walking in a short period of time.
Multi-Functional Design: This walking assistant is specifically designed to provide more control, not just for you, but for your baby. With its 4-in-1 multifunctional style, you can adjust the walker according to the needs of your baby's age. Its functions are as follows: Lift-with-Crotch for Start-to-Stand, Lift-without-Crotch for Ready-to-Walk, Pull-with-Crotch for Walk-with-Stumble, Pull-without-Crotch for Self-Walking.
Easy to Use: This baby harness is very user-friendly and comes with a user manual to help you use it efficiently. The straps are adjustable so it is easy to put on and take off and it can fit your baby's size, from chest to shoulder, to make sure he has more stability and balance.
Specification
Material: 100% cotton and 3D mesh, comfortable, breathable
Age Fits for 7-24months
Suitable for Baby with Weight 5-20kg/11-44pounds
Target gender: Unisex
Color: Deep Blue, Sky Blue, Red, Pink
Package Includes
1   x   Baby Walking Harness Assistant