Start Enjoying the Convenience a Stroller Organizer Bag Adds to Going Out with Your Baby
Every mom out there knows that one of the keys to successful parenting is the skill of organization. It encompasses all areas of a mom's life: the kitchen, her workspace, the baby's room, and, yes, you got it right!... the baby's stroller.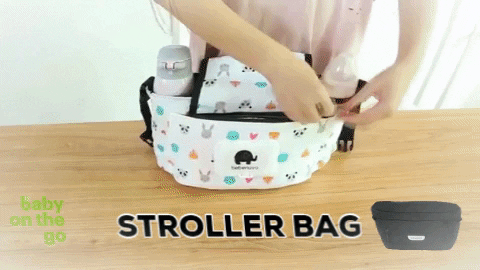 Do you find yourself spending more and more time pushing a stroller? Good for you… it's fun to get outside of the house. If you are a mom who loves to spend more time outside your home pushing a stroller, it can be challenging for you to handle everything from a milk bottle to your mobile phone with a bag containing much other stuff. A cluttered stroller basket means extra time looking for a pacifier or the perfect toy to soothe a crying infant. Especially out in public, it's important to know where the vital items are to reach them in an instant.
Thankfully, there is this Baby Stroller Organizer Bag that allows you to store the things you need for you and your baby in a clean-cut and hassle-free kind of way. Well, another good thing is that you can use this Baby Stroller Organizer Bag to make your life much easier without compromising other stroller functions and safety. Out of all the stroller accessories available, having the best stroller organizer is the most important.
This bag gives you extra space for your keys, phones, and many other essentials you might need when you are out with your little bundle of joy. It is built to hang on the strollers' handle so that most of your stuff is just within your reach. There are two compartments to carry a bottle and milk formula dispenser along with several other pockets and spaces and a special place to carry your keys. Made out of thick, durable fabric, this bag was made to be used, not just seen. Its highly functional nature requires it to be strong, and it lives up to that standard.
This versatile product was designed for busy parents on the go with the usual needs…a place to put everything they need. Though this stroller organizer appears small, it has all the compartments you need to snugly carry bottles, toys, snacks, pacifiers, and more. No matter what kind of lifestyle you lead, this Baby Stroller Organizer Bag is a game-changer. No longer do you have to settle with your handbag draped across the handlebars, hitting your legs as you walk. And no more having to crouch down to reach for your items in the storage basket underneath whenever you need to grab your phone or your baby's toy. This organizer's beauty is that it is big enough to carry everything you need but small enough for convenience.
Benefits of Stroller Organizers
Adjustable –you can easily adjust how high up the organizer is on the handle. Most come with a Velcro strap that allows you to securely strap it onto the stroller's handle and match it to your height. This way, it doesn't keep knocking onto your knees as you walk.
Add-on Features –a lot of strollers don't have a parent organizer or cup holders. This add-on is very much welcome for parents. Have a place for your coffee or bottles for easy access.
Convenience –keep everything within reach as stroller organizers are generally designed to be placed just behind the handlebars, allowing parents easy access.
Easy Transport –unlike when you use the storage basket on your stroller, the organizer allows you to transport all your important belongings easily.
Apart from your beverages, various pockets organizers for strollers come with handy pockets that can keep your phone, keys, and cash close. This ensures that they are safe and always within reach.
Affordable –The best part about stroller organizers is that they are very affordable, and you have a variety of brands and designs to choose from. Now you can get organized without putting a hole in your wallet.