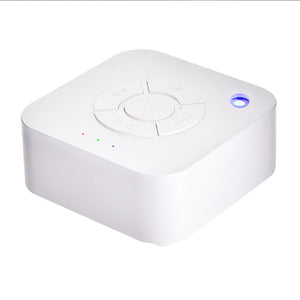 The womb is not a quiet place for babies. Your beating heart, the sound of the blood rushing around your body, and the rhythmic sound of your breath creates comforting noise days and nights of their duration in the womb which make them used to it.
Once born, babies suddenly find themselves in a disconcerting world of hushed lullaby tones and steps. Although designed for their comfort, this can sometimes leave them feeling detached and anxious. No wonder your baby may be having trouble sleeping.
To help your baby sleep better at night, most experts often recommend relaxing activities, such as warm baths. When nothing seems to work, parents might turn to alternative measures like incorporating a Baby Relaxation & Sleep White Noise Machine to the strategy. White noise refers to sounds that mask other sounds that might occur naturally in an environment. White noise eases your baby's transition to our great big world. Not only that they're familiar with it, …it's one of the most important calming reflex triggers. If you live in a city, for example, white noise could help block out noises associated with traffic.
White-noise machines create a comfortable, womb-like environment that calms anxious infants, encouraging them to stop crying and fall asleep faster.
White-noise machines also help babies stay asleep longer. Specific sounds might be used to help encourage sleep regardless of environmental noises. Examples include rainforest or soothing beach sounds. Babies may be able to fall asleep faster with white noise in the background. White noise can block out household noise such as older siblings. 
There's no sweeter way to put your baby to bed than with calming ambient noise. As you snuggle your little bundle of joy close at bedtime, adding this Baby Relaxation & Sleep White Noise Machine to the experience can boost your sense of connection and even improve your child's cognitive development mimicking the natural maternal sounds, which may be comforting for newborns.
Product Features:
9 high quality relaxing nature sounds: white noise/summer night/bicker/serenade/3 different lullaby/wave sound/bird song, to create a perfect sleeping environment for you, and you will fall asleep easier, sleep better, and wake up refreshed.
The sleep therapy sound machine has an auto-off timer button and you can be set for 15(light-up red Led), 30(light up a green LED), or 60 minutes(light up blue Led), which means that you won't need to manually switch it off, and you can adjust the volume and set the timer according to your preference before sleep.
The baby sleeping machine built-in 1200mAh battery and USB charge port, which means you can use it for up to 36 hours and easy charger by USB charge cable, and come with breathing light it can better create a perfect sleeping environment for you, and you will fall asleep easier.
The sleep machine not only can for masks noise, improves sleep quality, but also is suitable for use at home in a dorm, in a baby nursery, or anywhere you want, small and lightweight body for easy carrying wherever you go.
Specifications:
Material: ABS + PC+ silicone + electronic components

Size: about 80*80*33mm/3.15*3.151.30in

Input voltage: DC5V

Working voltage: 4.2v

Charging current: 1A

Power: 1W

Battery capacity: 1200MA

Charging method: USB

Charging time: 1.5h

Use time: 36h

Certification: FCC/CE
Package Includes:
1 x   White Noise Machine
1 x    USB
1 x    Instruction Manual