You Don't Have to Be an Origami Expert to Use the Baby Envelope Swaddle Blanket with Head Cap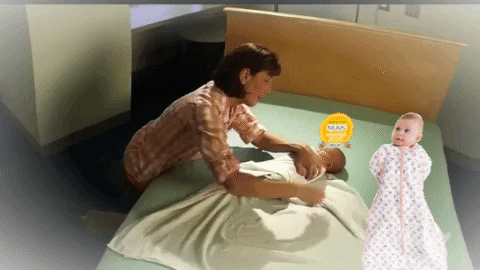 Moms have been swaddling newborns for centuries. In many hospitals, a nurse swoops in after a woman gives birth, swiftly wrapping the squirmy tot into a baby burrito. Something that is done by medical professionals and that is so deeply rooted in many cultures must be good for your baby, right?
Research reveals that severe sleep deprivation past 6 months postpartum is the number one reason for postpartum depression. This Swaddle helps make sure that you get the much-deserved rest you need. Helping your baby sleep independently of you gives you time to be well-rested, care for older siblings, or take care of chores. Remember if you are happy, the whole house is happy. 
A good and safe swaddle for babies can be a real sanity saver because the first few months after the baby is born, your life turns completely upside down and your nights and days look the same… and WHEN DONE RIGHT, SWADDLING JUST WORKS! It helps babies calm down, drift off to sleep, and if you are lucky, even stay asleep for longer periods. This was designed with moms in mind - so it's easier, more effective, and extra adorable when compared to a traditional swaddle blanket. 
If you're expecting a new arrival soon, get your Baby Envelope Swaddle Blanket with Head Cap now and experience fewer sleepless nights once the baby is here. If your baby is already a few weeks old- it's not too late! Although many parents swaddle right from the get-go, you can always start swaddling when your baby is a bit older.
Swaddling has a number of key benefits for both parents and babies – when done correctly and safely.
Benefits of Swaddling Your Baby
Babies who are swaddled sleep longer and more soundly.
Swaddled babies experience less anxiety.
Swaddling prevents unnecessary wake-ups due to the startle reflex.
Using a swaddle eliminates the need for comfort items in baby's crib – no pillows, bumpers, blankets, stuffed animals, etc. (using these items in crib have been linked to SIDS)
A swaddled baby can't scratch their face.
Swaddling mimics touch, which is important for baby especially when they wake up at night.
Wearing a swaddle helps maintain the baby's back-sleeping position, and also reminds tired parents to place the baby on back to sleep.
Swaddling soothes babies with colic (again, when swaddled, they feel secure and safe just like they felt in the womb).
Using a swaddle with the baby in the hands-over-heart position is the preferred sleeping position for babies; in this position, they learn to self-soothe and can get back to sleep on their own.
Swaddling benefits parents too — when the baby sleeps more, mom and dad sleep more!
Specifications:
Material:100% Cotton, environmental material(have passed the test)
Swaddle Sizes: Small Size (75*50cm), Suitable for 0 to 3 months. Large size (75*60cm), Suitable for 0 to 6 months
Hat Size: Fit for head circumference within 36 - 48 cm