Baby Diaper Clutch Changing Pad - When You Need to Heed the Call of Diaper Duty, It's Best to Be Prepared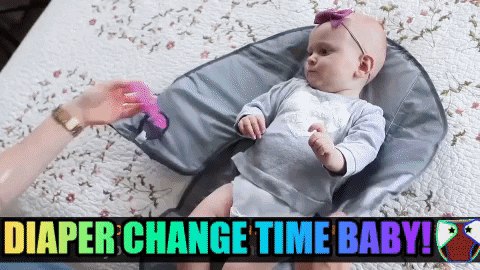 Raising young children can be quite challenging at times. A parent's diaper duty is never done. Over the course of your baby's first few years, you will change thousands of diapers. Regardless of your choice of diaper type, one thing is certain, you will need somewhere to change all those diapers. You never know where you'll have to plunk baby down, but at least you'll have a clean, soft surface ready when you need it. For those on-the-go diaper changes outside the house, this trusty portable Baby Diaper Clutch Changing Pad is a lifesaver.
No parent wants to wake up to a fussy, crying baby. One of the reasons your little angel is troubled is that a soiled nappy and changing the diaper might be uncomfortable. The purpose of this baby changing pad is to keep your changing surface clean from waste and to keep your baby safe and comfortable during diaper changes.
When on diaper duty, it can be tough to keep curious kids from touching their dirty diapers during changes, but this Baby Diaper Clutch Changing Pad keeps little hands clean. The innovative mat folds around the baby's upper body to keep them engaged with the attached toys while you clean up the mess. The cushioned diaper changing pad is waterproof and easy to wipe clean, and the inside pockets hold everything a parent needs for quick changes on the go. When it's not being used as a changing pad, it folds up neatly and compactly to the size of a clutch. Plus, this changing pad station has an adjustable strap to be worn around the wrist or clipped onto a stroller. It also has a built-in foam pillow to keep your little one comfortable, plus it folds up into a small on-the-go diaper clutch.
It's a necessary piece of baby equipment. Not only does it protect your baby from dirty surfaces but it also helps prevent diaper leaks from spilling over the changing area. Less clean up, less stress!
 Product Features and Specifications:
Diaper-duty Made Easy: Your baby's fidgety, curious little hands can make diaper changes a challenge. This take-along changing station resolves the struggles that new parents face. The sides fold up and create a barrier that you can use for attaching toys to keep your child's hands occupied while you clean them up. Afterward, our foldable pad packs down to a small clutch size for your diaper bag.
Easy to Clean: Hygiene is important to the health of your newborn. You won't have to go to great lengths to keep these changing pads fresh and clean for your infant. Our convenient wipeable changing pad is 100% polyester and very easy to care for. Wipe clean after each use and hand wash when needed. Be careful not to put in the dryer, iron directly, or use undiluted bleach on the pad.
Integrated Teether: The unique teether toy doubles as a slide buckle transforming a baby blanket into half a dozen useful parenting items so you can pack light and be prepared. Diaper time just became playtime! These changing sets will complete your baby supplies. 
Gift Idea: If you're looking for the perfect unisex baby shower or first birthday present that works for a boy or a girl, you've come across the right product. This play changing pad is recommended for newborns to 2-year-old toddlers. It's the best addition to anyone's baby supplies. Parents who like to travel will love its light, portable convenience. Works well in any nursery.
Roomy Pad: Your sweet baby will have plenty of wiggle room on this diaper changing mat. The changing surface measures 27" x 13". When the barrier is laid flat, the width increases to 26". When closed, the mat measures 13" x 7" x 3". The re-direction barrier fits around children with a lower chest size of 22" or less.
Maximum Comfort: Babies inevitably become fussy when they're uncomfortable, which is why this pad includes a ¼"-thick foam pillow to support your baby's back, shoulders, and head! Parents and kids alike will appreciate the polyester's water-resistant properties, ensuring dry comfort for baby and easy cleaning for mommy. 
Material: Oxford + tarpaulin
Colors, Sizes, and Designs: Plenty to choose from. (refer to images)