Anti-Slip Soft Crawling Baby Knee Pads
There is nothing cuter than watching your baby in a diaper, wiggling back and forth as he crawls across the floor. You may think they are just crawling, but they can be mighty fast with those tiny and fragile knees.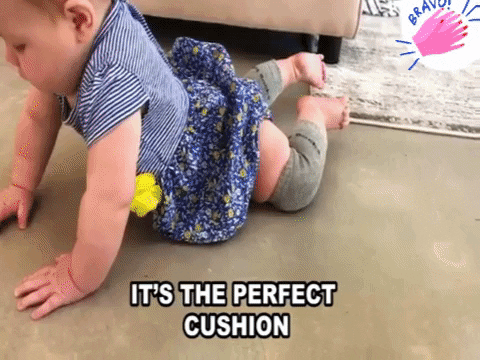 A hard or rough floor can quickly bruise your baby's knees as he crawls a few laps around your living room. Because your baby's skin is so soft and delicate, it does not take much to mark it. Floors like marble and concrete pose a particular problem. Even carpet can rub your baby's skin fleshy red. If you have ever had rug burn, you will know just how much it sucks. While your baby may not immediately realize just how sore his knees are, wait until bath time. When those red and render knees hit the warm bath water, your baby will definitely cry with pain. So how do you stop this from happening?
Have their knees WEAR THESE CRAWL PADS! We put shoes on our baby to protect their feet, but for some reason, do not bother with their knees. The thing is, you cannot protect them from going into every place, no matter how much you try. You could even try carrying them, but they may get uncomfortable, and you would eventually have to put them down. So, you might as well keep them as protected as you can without suffocating them. Thankfully, there are these ANTI- SLIP SOFT CRAWLING BABY KNEEPADS designed to keep your baby's knees safe and comfortable while crawling around. They are great for new walkers when they curiously crawl and learn to walk.
Children with special needs and slow developers who continue to crawl for a longer period than the average baby also benefit from these products' knee protection. 
But it's not just crawlers that benefit from knee pads. If your toddler is learning to walk, then chances are, he will keep falling over, banging his knees on the floor. You can even put them on your child to ride a bike and skate. Your cuties can wear this kneepad at home or outdoors anywhere in any season.
Kneepads will provide your little one's knees with a soft place to land each and every time he takes a tumble or fall.
PRODUCT FEATURES:
Built-in comfortable cushion - The inside of the baby knee pads has a very comfortable fluffy cushion to protect the baby's skin, reduce the damage caused by friction, and make your baby more comfortable!
Anti-slip Particles - The newly improved anti-skid particles for knee pads will not fall off as easily as other products, which will cause infants to eat by mistake, and the anti-skid level will be improved again! This will prevent your baby from getting injured when the floor is too slippery when they first learn to crawl.
Elastic - Made of stretchable materials! It will not cause a baby's leg injury due to insufficient elasticity, making the baby more comfortable when wearing it. It will not be eliminated as the baby grows into a toddler; you can use them for 6-36 months, kids!
SPECIFICATIONS:
Material: 100% Cotton, Dacron, 7% and 3% Spandex
Color: As Shown
Length: 12cm
Diameter: 9cm
PACKAGE INCLUDES: