Feeding Your Baby Just Got Easier with the Spoon Feeder Bottle!

This Baby Feeder Bottle is great to use anywhere. The protective cover keeps food from leaking, making the squeeze feeder ideal for travel. Simply fill the feeder with the desired amount of baby food or cereal, and give the soft silicone feeder a gentle squeeze.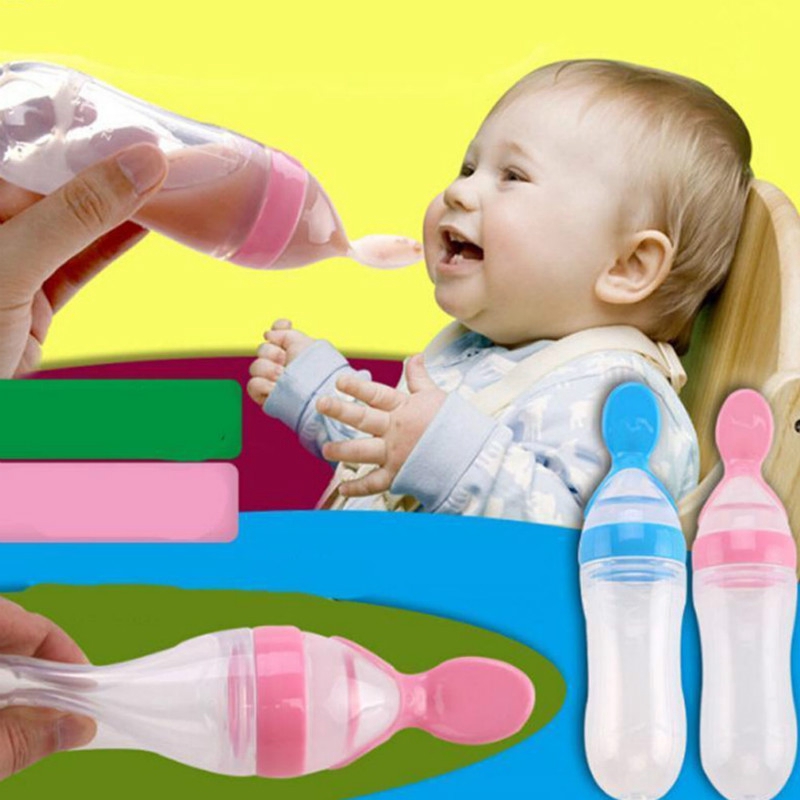 The baby food is allowed to pass through a hole in the spoon's neck and into the spoon's bowl. Feeding time has never been so easy. When your baby starts eating cereals, it's time to give them something different that could help them feed and give them a nice self-feeding training to eat properly. Our premium cereal feeders will be the best choice for your baby's complete food-time.
Benefits & Features:
✅Perfect For Sleeping and Reassuring Baby: Ultra-soft luxurious materials and cushioned edges provide a reassuring holding effect that reduces startle reflection and lets baby play, rest, and nap comfortably.
✅Prevent Flat-Head Syndrome: Fitted head support distributes the skull's pressure evenly, best for keeping baby's head nice and round and preventing plagiocephaly.
✅Additional Advantage: An adjustable leg support roll made of micro-granules raises the baby's legs to help with digestion, breathing, and colic. This nature fetal position also soothes the baby by mimicking the cozy environment of the mother's womb.
✅Recommended By Healthcare Professionals: Patented osteopath design has been developed to provide the highest quality and safety for your baby. It has been tested and certified free of harmful substances.
✅Adjustable Size: Adjust the leg roll to your little one's size for a perfect fit from birth up to 3 months (Use until baby rolls over). Easy To Clean And Portable: Machine-washable, lightweight, and foldable for easy travel and care.
Product Specifications:
Capacity: 90 ml
Flow Rate: Variable Flow
Material: silicone + PPf
Fit month: more than 4 Month
Heat resistance temperature: 12