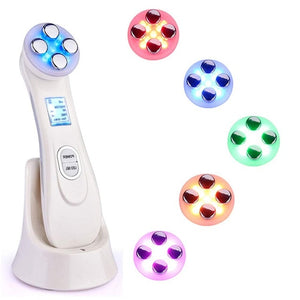 A device that targets everything from BREAKOUTS to COLLAGEN BREAKDOWN that's PAINLESS with ZERO DOWNTIME, … this 5 IN 1 LED SKIN TIGHTENING DEVICE deserve a spot in your beauty toolbox.
The physical changes of pregnancy and childbirth can be dramatic and long-lasting, and most women find the cumulative effect of these changes psychologically difficult with the fact that self-esteem also suffers during this stage up to the early years of motherhood. In the process of bringing a new life into the world, postpartum mothers' self-confidence levels are greatly affected due to poor facial skin conditions especially if you had glowing skin during pregnancy. While for some the skin changes are welcome, for others it may not be a very happy sight. While some mothers are lucky enough to maintain their glow after delivery, others may experience pimples, skin pigmentation, stretch marks, puffy eyes, and dark circles. With little care or total negligence, it tends to worsen and can lead to post-childbirth depression.
Bringing back your normal self both emotionally and physically only seems like a far-fetched dream, at times. But the good news is you can do something…that none of these changes is permanent. With little care towards oneself, women can go back to looking and feeling like her pre-pregnancy self in due course of time.
6 Color Photon Light Skin Care:

Red light - promotes collagen regeneration and restores skin elasticity, face lifting, skin rejuvenation

Greenlight - decompose melanin and brightens skin

Blue light - improve skin roughness, help scarring remover

Yellow light - brighten skin tone and improve dullness

Pink light - brightening skin

Pink flashing - enhances the introduction of cosmetic liquids
Self-care after childbirth usually takes a back seat as most of your time pours out on caring for the newborn. However, taking out just ample minutes for oneself can do wonders and help mothers to regain their glow and confidence too. This 5-in-1 LED SKIN TIGHTENING DEVICE helps women regain their self-confidence after childbirth. It addresses many skin tightening concerns especially on the face and enables mothers to feel better again about their appearance.
Usage Instructions:
How to Use:
Clean your face, apply serum or cream on your face.

Press the POWER switch to adjust the intensity level. Choose the level your need.

Move the device slowly to your face. The device will automatically shut off after 10minutes of use.
LED light therapy has long been developed by scientists to speed-up tissue healing and repair. With the technological breakthrough in beauty treatment, this LED light therapy device is now widely accessible and used as an at-home skin treatment in the form of this handheld 5-in-1 LED SKIN TIGHTENING DEVICE. It uses color wavelengths of visible light that have specific skin benefits. As a result of aging, childbirth, skin disorders, or trauma…healthy skin cells are compromised and unable to renew themselves normally.
Remarkable Effects:
Improves spot.

Removes wrinkles, face lifting, skin rejuvenation.

Improves skin, promotes the formation of collagen, makes skin younger.

Removes the red spot.

Nourishes and whitens skin.
The skin uses the light from this device as a source of energy to fuel the repair and rejuvenation of damaged cells, or, in the case of treating acne, kill bacteria. The energy stimulates the production of collagen and elastin, boosts circulation, and accelerates tissue repair. It helps improve skin laxity on their own.
Product Features:
Multifunctional Skin Tightening Beauty Machine -- 5 different functions included 6 Color Modes can offer you skin firming, face lifting, anti-wrinkle, anti-aging, skin whitening, nutrition lead-in, shrink the pores, tightening and brighten skin, suitable for dry/oily/sensitive skin, make your skin healthy.
Face Firming Beauty Device -- Give your skin warm, soften wrinkle, restore skin firming, face lifting, make your skin glow.
Promote Absorption -- Massager used with skincare cream can make 10 times increase skin absorption to directly moisturize the skin, make it more elastic.
Light & Safe -- Comfortable to hold and light. Secure USB wireless charging reduces the trouble of charging and it can last a longer standby time after a full charge.
Specifications:
Material: ABS
Input: DC5V(500mA)
Power: Max 10W
Battery capacity: 850mAh
Charging time: 3 hours
Use time: 10mins/time
Standby time: 40 days
Color: White
Size: 17.3*4.2cm(L*W)
Weight: 198g
Use Time: 100mins
Power Supply: Charging by USB
Tips: Read the manual carefully and charge fully before use.



Package Includes:
1 x beauty instrument
1 x USB
1 x Charger stand
NO BOX INCLUDED